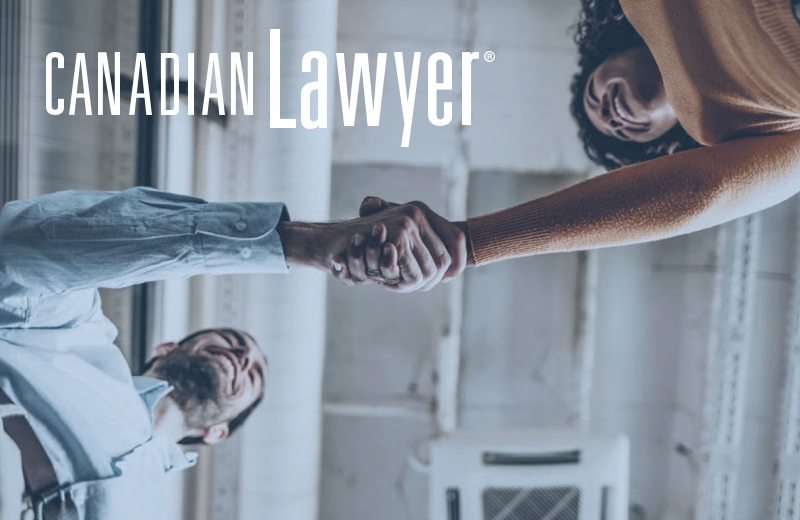 Ability to keep process moving benefits both the client and the lawyer
January 9, 2023
When a couple is going through the divorce process, the cashflow issues start early and there are many steps that need to be taken to reach resolution. They've merged their finances, own joint assets, and have often reached maximum debt capacity and therefore struggle to fund legal fees associated with the separation until their assets are liquidated and dispersed.
"The subsequent 'stop and start' approach is something experienced by many clients in the family law process, and it tends to cost more in the end because the information becomes stale, the lawyers and their staff must re-review the file, and negotiations can become stagnant," says Keri Campion, Team Lead, Risk Management at Bridgepoint Financial, adding that their financial woes are also not confined to the legal sphere: the liquidity crisis not only contributes to overall delay in the divorce process, but it prevents the couple from moving forward in their lives.
BridgePoint's Family Law Financing is tailor-made to address both funding for legal fees and personal expenses. They also offer other products which assist with moving matters towards a resolution. Family Law Financing loans, are It's essentially an advance on clients' divorce settlements, paid to either partner of divorcing couples, offering different financing options such as a lump sum for initial retainer fees, a line of credit for ongoing legal costs or personal expenses, or a staged loan wherein the client receives a certain amount each month to assist with paying legal accounts, topping up retainers, or personal expenses which may free up some of their income for legal costs. After an upfront administration fee, no payments are required until the borrower has their entitlement – no matter how long it takes.
"This financing helps people focus on the future because they're able to make financial decisions now that they otherwise couldn't," Campion says.
As lead on the Family Law side of the business since it was developed last year, assessing every application, and working with lawyers in gathering information, Campion says a common scenario is where one party manages the home and the other works outside the home, and the one with no income is often disadvantaged during a separation. They're a perfect candidate for BridgePoint's financing because there's no question an equity portion and/or equalization payment will flow from one party to another, but until that happens, they need help covering legal fees and personal expenses.
"Whether that's rent on a temporary place or a down payment on a new home for one or both partners, these small things help move their lives forward while going through the process so they're not stuck waiting in an uncomfortable situation. That helps with the relationship between the partners and with their children. Ultimately our solution saves clients money and helps them reach resolution in a timely manner."
Delays due to finances frustrate all parties in the family law process, including the lawyers. In this area of practice, lawyers typically require an upfront retainer and ongoing fees. They routinely turn away clients who cannot pay or they take on some form of deferred payment plan on a limited basis, but the latter can become very onerous. BridgePoint's Family Law Financing increases the volume of files because more people will be able to access legal representation and provides the funds to keep the process moving which resolve files faster and alleviates the need to manage extra costs and delays. This translates to increased file volume and increased cashflow.
"There's interest from the family law bar because our financing really does open the door for them to take on the clients that lack the financial liquidity, which can also increase their client base," Campion says. "When used responsibly, clients can consistently pay their legal fees and lawyers can work on the file rather than deal with accounting and funding issues. This leads to stronger relationships between lawyers and their clients as well."
Another BridgePoint product, Expert Access, dovetails nicely with the Family Law Financing. It combines two essential services – the ability to source the most qualified experts anywhere in Canada and the option to defer payments for their reports with no interest for two years – which help lawyers deal with their own expenses and facilitate faster resolution for their clients.
High-cost expert reports are often required to assist with resolving issues and disputes within a separation, for example a real estate appraisal, social work report, business evaluation or an accounting report. Often clients don't have the means to pay for these upfront when they're already managing legal costs and living expenses, but they're crucial to a negotiating a fair resolution. Matters can stall for a long period of time while clients try to save up the cost of one report, precluding the assets from being divided. This can also be an access to justice issue if it's an uneven playing field where the party with no access to funds is the one who requires the report.
In one case study, the parties owned a business together however one party solely operated it while the other party stayed home and cared for the household and children. Upon separation, the party who managed the home was going to be bought out from the business interest and the matrimonial home but did not have funds in the interim to pay for legal representation or personal expenses. BridgePoint was able to fund a business evaluation report and provide funds to the party for legal fees and personal expenses while the issues were resolved, and the equalization payment was negotiated and resolved.
"Being able to offer a solution in a responsible way that helps somebody through a sensitive process and allows them to focus on healing, their children, and the actual transition rather than the financial implications is meaningful to me," Campion says. "Many of the people coming to us have no other options, and we are able to provide them – and their lawyers – peace of mind."
Source: Canadian Lawyer Magazine
All Blog Posts